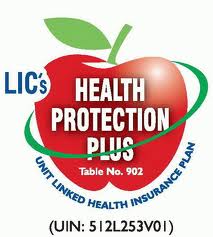 LIC's Health Protection plus is a unique long term health insurance plan, which combine, health insurance covers for the entire family (husband, wife and the children), Hospital Cash Benefit (HCB) and Major Surgical Benefit (MSB) along with a ULIP component (investment in the form of Units) that is specifically designed to meet Domiciliary Treatment Benefit (DTB) / Out Patient Department (OPD) expenses for the insured members.
It's a specially designed product to suit the health care needs of the age group – 18 years to 65 years (up to maximum of 75 years age). It also provides following benefits – Hospital Cash Benefit (HCB)‏ Minimum Rs. 250/- per day,‏ Major Surgical Benefits
(MSB)‏ percentage of of Sum Assured (100% / 60 % / 40 % ) for 48 defined surgical procedures. Reimbursement of domiciliary Treatment Expenses (Partial Withdrawal of Policy Fund)‏
Benefits of LIC's Health Protection Plus
Hospital Cash Benefit
Major Surgical Benefit
Domiciliary treatment Benefit
Income Tax benefits under U/S 80D
Features
Minimum age at Policy Entry – 18 years last birthday for spouse and principal insured, 3 months for child insured
Minimum age for HCB Cover – 18 years last birthday for spouse and principal insured, 3 months for child insured
Minimum age for MSB Cover – 18 years last birthday for principal, spouse and child.
Maximum Entry Age – 55 years Nearest Birthday for spouse and principal insured, 17 years for child insured.
Minimum Annual Premium – Rs 5,000 p.a. for Single Life, Rs.7500 p.a. for two lives and Rs.10000 p.a. for more than two lives
Premium Payment Frequency – monthly, half yearly and annual
Premium Payment
| | |
| --- | --- |
| Number of Lives covered | Higher of the two conditions in each category listed below: |
| Single Life | 6 times the HCB of the Principal Insured OR Rs.5000 p.a. |
| Two Lives | The arithmetic sum of 6 times the HCB of PI and 3 times the HCB of the second insured. OR Rs.7500 p.a |
| More than two Lives | The arithmetic sum of 6 times the HCB of PI and 3 times the HCB of each of the others insured OR Rs.10,000 p.a. |
Annualized Premiums are payable in multiples of Rs.500.
Sum Assured
The Principal Insured must first choose the respective levels of HCB for each member to be covered under the policy. The sum assured for major surgical benefits will be 200 times of the HCB you choose.
| | | | |
| --- | --- | --- | --- |
| Major Surgical Sum Assured | Principal Insured | Spouse Insured | Child Insured |
| | 200 times the HCB applicable to each insured life under the policy. | 200 times the HCB applicable to each insured life under the policy. | |
Increase/Decrease of Premiums
Increase or decrease of premiums is allowed during the term of the policy. Increase in premium must be in multiples of Rs.500. In case of decrease, the minimum premium conditions must be satisfied. However, increase/decrease in premiums does not affect the level of health cover and HCB and MSB benefits.
Charges under the Plan
a. Premium Allocation Charge
b. Health Insurance Charge
c. Policy Administration Charges
d. Fund Management Charges
Hospital Cash Benefit (HCB)
A daily benefit is payable in case the insured is hospitalized due to accidental body injury or sickness. The quantum of benefit depends upon the level of cover opted. The daily benefit will increase @5% simple p.a. of the IDB on each policy anniversary until it hits a cap of 1.5 times the initial benefit. However there is an overall limit of 365 days of HCB and yearly limit is of 60 days from 2nd year and only 30 days in first year.
Major Surgical Benefit (MSB)
In the event of the insured undergoing one of the major surgeries defined by LIC, a lump sum benefit (regardless of the actual costs incurred) equivalent to the percentage of the sum assured mentioned against that surgery will be payable.
Domiciliary treatment Benefit (DTB)
The Principal Insured can claim an amount equivalent to the actual expense, he or she has incurred in respect of any domiciliary treatment or to meet the medical expenses incurred over and above the hospital cash/major surgical benefits in respect of either oneself or the others insured under the policy. Some important points for DTB –
1. It can be claimed only after 3 years.
2. Max two payment in a year.
Tax Benefit
The premium payable under this product is eligible for Section 80(D) benefit of Income Tax Act. Hospital Cash Benefit, Major Surgical Benefit and Domiciliary Treatment Benefit also not taxable.
Advantages
The product provides health cover for the entire family, including newborn from the age of three months. Both hospital cash benefit and major surgical benefit are covered under the plan. So we can say individual health plan, family floater and critical illness all three are covered in one plan.
This scheme allows the insured to claim for domiciliary treatment that is expenses incurred in respect of any disease for which they need not be hospitalised.
The cover continuation even after if you stop premium. Under this policy after payment of three premiums, one can, if required, pay alternate premiums that is skip fourth year and pay the fifth year premium. The policy would not get lapsed under such arrangement.
The product also offers increase/decrease in premium depending on the need of coverage required.
Disadvantages
This product does not have a surrender option.
High Premium Allocation Charge of 30% in first year and 6% in all subsequent years seems to be on a very high and also Health insurance Charge, Policy Administration Charge, Fund Management Charge makes it a very costly proposition considering minimum 50% of the fund needs to be invested in Debt.
LIC's Health Protection Plus does not provide any death benefit. Accumulated fund value is handed over in case of death of the insured. In case the spouse and the children are also covered then the premium will be waived off and the cover will continue for them.
Conclusion
This plan is not the substitute of health plans offered by general insurance companies. This plan is very complicated with lots of conditions and ULIP factor. So understand well by your insurance advisor first and then buy. My rating for this plan is 1*, so avoid this plan.When to buy – If you have no critical illness plan or only wants to buy health plan from LIC than go for this plan.