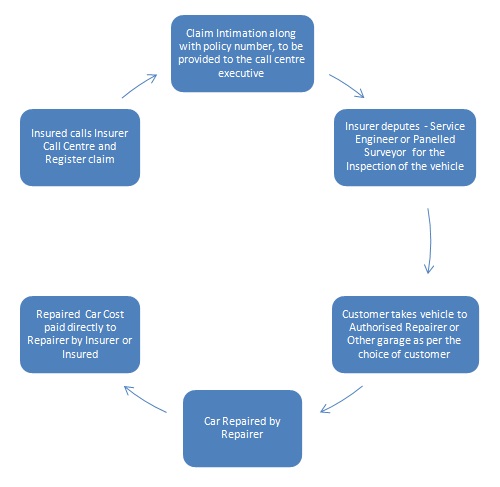 Immediate action after the accident
First of all, please take care of your health and consult doctor for precaution and treatment (if required).
Notify Police authorities in case of Road Traffic accident.
Notify the claim at the insurance company's call centre as soon as possible. In case you are not in a position to notify your claim, please take help of relatives, friends, colleagues to notify the claim.
8 steps to file a motor insurance claim?
1. Take steps to protect yourself and your car from further damage.
2. Record the details of the accident.
3. Inform your insurer. Do it as soon as possible and even if someone else caused the accident. Please keep following information handy with you before intimating a claim to the insurance company –
a) Policy Number
b) Your Contact Numbers
c) Date & Time of accident,
d) Location of Loss,
e) Brief description on how the accident took place,
4. Lodge a FIR at the nearest Police Station , in case the loss has occurred due to any cause like Fire, Burglary, Theft, Damage to third party, Accident etc., i.e. for any reason other than Act of God Peril e.g. Flood, Earthquake, inundation etc.
5. Fill up the claim form.
6. Submit claim form to the insurer directly or by an authorised Agent along with documents required /asked for in the claim form, such as Police Reports (Or FIR), as the case may be.
7. The insurer may (depending upon type of claim) appoint Surveyor/ Loss Assessor.
Keep records of your expenses. Expenses you incur as a result of an automobile accident may be reimbursed under your policy.
Keep copies of all your paperwork. You may need to refer to it later.
What documents needs to be submitted with claim form?
Documents Required For Accident Claims
1. Claim form duly signed *
2. RC copy of the vehicle
3. Driving license copy**
4. Policy copy (First two pages)
5. FIR on a case-to-case basis
6. Original estimate
7. Original repair invoice, payment receipt (for cashless garage, only repair invoice)
For Theft Claims
1. Claim form duly signed*
2. RC copy of the vehicle with all original keys
3. Driving license copy**
4. Original policy copy
5. Original FIR copy
6. RTO transfer papers duly signed along with Form 28, 29, 30 and Form 35 (if hypothecated)
7. Final report – A no trace report from the police saying that the vehicle cannot be located.
For Third Party Claims
1. Claim form duly signed*
2. Police FIR copy
3. Driving license copy
4. Policy copy
5. RC copy of the vehicle
* Company Stamp required (on claim form) in case of company registered vehicle
** Original documents
8.Claim is finally settled by insurer – After completion of repair at a preferred garage.
In case of Cashless Settlement –
The insurer will make payment of the loss directly to the garage.
You will only have to pay the excess as mentioned in the policy and the depreciation value, salvage etc. as informed by the surveyor.
In case of Reimbursement Settlement –
The insured will have make payment of the loss first to the garage.
Then, he will submit the claim with supporting documents to the insurer for reimbursement.
Insurer will check all the documents and surveyors report, pay the claim amount (after deducting excess, depreciation value and salvage etc)
Do I need to pay any money from my pocket in cashless?
Yes, you will need to pay the excess amount, depreciation and salvage etc. compulsory deductibles and cost of consumables (if any)
Do I need a FIR in case of any accident?
You have to obtain a FIR under the following cases
1. Any third party injury or death due to an accident involving your vehicle
2. Any personal injury or death of a paid driver
3. Any personal injury or death of an owner-driver
4. Any personal injury or death of a passenger
5. Any third party property damage
6. Theft of the vehicle
7. Theft of accessories, stereo-recorders, other vehicle parts
8. Any loss or damage to the vehicle by miscreants, rioters, terrorists, arsonists, etc.
How long will it take to process my claim?
It very from insurer to insurer, but as a standard, it usually takes 10-15 days after submission of all the documents.
What do I do if the vehicle is stolen and the original policy is lost?
You need to file a theft claim with the insurer with the policy no. and ask for a duplicate copy of your policy from the insurer record.
What should I do if someone makes a claim against me?
File an FIR. Record the name, address, license number and insurer of other drivers involved. Also note the registration numbers of all the vehicles involved, if possible. If the claim is for an accident, try to get names and addresses of witnesses. Do not make any admissions and do not attempt to settle any claim made against you.